Cooperation in the project "ProNet Handwerk"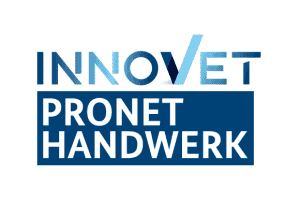 The InnoVET-"ProNet Handwerk" project, funded by the Federal Ministry of Education and Research, is developing modular, cross-trade blended learning training courses "Smart Living and Working" with Bachelor Professional and Master Professional degrees, an e-campus including examination software for digitally supported module and final examinations, and further training courses for training staff. The aim is to increase the overall attractiveness of vocational training in the skilled trades. In order to adequately prepare the skilled trades for future challenges, the innovation project is developing new concepts that are intended to create sustainable added value for the skilled trades. These include modern advanced training professions to promote digital innovations, the development of new business fields, the facilitation of new career paths in the companies and on the construction site, and an image gain for the entire skilled crafts sector.
More information about the project can be found at this link.